Unleash Prosperity Hotline
Issue #312
06/23/2021
1) Hooray! New York City Voters Repudiate "Woke" Progressivism

Brooklyn Borough President Eric Adams, who spent 22 years as a cop, and ran for mayor as a common-sense crime fighter, currently has a 10-point lead in the NYC mayoral race. Outstanding absentee ballots and NYC's bizarre ranked-choice voting system will delay a final count until mid-July. But Adams is the prohibitive favorite to win. 

If he wins, it will be because he ran full tilt against defunding the police. 

Alexandra Ocasio-Cortez endorsed radical Maya Wiley, who is far behind in the balloting.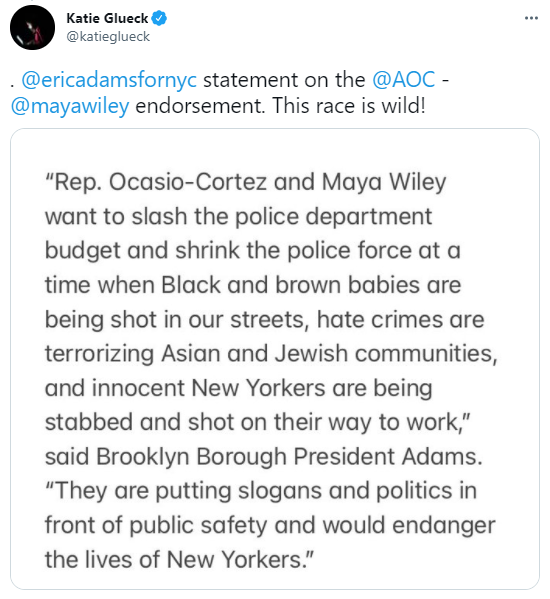 This vote, if it holds up, is also a repudiation of the far leftist Bill de Blasio agenda. Bill de Blasio's response to the riots last year was that of a weakling; he has called for the elimination of bail; and he demonizes the NYPD.  

Adams didn't just run a tough on crime agenda. He also called for lifting the cap on charter schools so the half of New York City students who fail basic proficiency tests would have a chance of going to a decent school. 

America's big cities like New York are getting crushed by crime, taxes, and lousy schools. Perhaps even liberal New Yorkers are waking up to that reality.


2) Biden's Spending Blitz In Perspective

We summarize below Biden's spending ambitions post—COVID versus other major wars and other major spending initiatives throughout history. Biden has called for three $2 trillion supplemental spending bills this year – one of which, the $1.9 trillion blue state bail out already passed in March. Trump endorsed about $3 trillion of new spending in 2020 – while the economy was locked down and the pandemic was in full throttle. How can Uncle Sam need TWICE as much money with the crisis over?

We are frustrated that some Republicans are talking about  $1 trillion infrastructure compromise. We need to be CUTTING – not adding – $1 trillion from the most bloated budget in American history.  


Subscribe to receive our full hotline