Unleash Prosperity Hotline
Issue #267
04/20/2021
1) The Tesla Cover Up

We are not for or against electric cars and electric batteries. They may well be the future. Our view is always: let the market (not politicians) decide and get rid of ALL government energy subsidies. 

But we, as many of our readers, were shocked by the photo of the Tesla car after the crash. This looks like a picture after the atom bomb was dropped on Hiroshima. There is still controversy about what caused the crash. But, news reports quoting firefighters on the scene indicate that it took more than 10,000 gallons of water to stop the fire – apparently to no avail. When these batteries explode, they are like hand grenades.




Where are the modern-day Ralph Naders? They are nowhere to be found and stone silent. Why? Because the climate change fanatics on the left care more about global warming than auto safety. The left's theme used to be "no blood for oil." Now they are willing to spill blood to stop using oil. What humanitarians!
2) A Mask Too Far

HOTLINE readers have known for over a year that the coronavirus is almost never transmitted outdoors. But that hasn't stopped ultraliberal cities and states from adopting *outdoor* mask mandates, and until now their favorite health officials and gurus have been more than happy to go along – even though there's never been any plausible science to back it up.

Now suddenly, ten days before Biden's "100-day mask challenge" is set to end, simultaneous stories calling for an end to outdoor masking have appeared in Slate, the Atlantic, the New England Journal of Medicine, and in Twitter feeds of lockdown gurus like Drs. Monica Gandhi, Marc Lipsitch, and Ashish Jha. Even reliable Biden journohacks like Peter Baker and Joe Scarborough joined the echo chamber.

We'll go out on a limb here with a prediction: the White House is going to call for an end to OUTDOOR masking and an extension – possibly another 100 days – on INDOOR masking when Biden gives his big 100 day valedictory on April 29. 

But we've noticed that liberals LOVE wearing masks outdoors, indoors, in their cars, in the bathtub so we doubt that they will stop wearing them.  For the left, a mask is akin to a "Biden for President" button.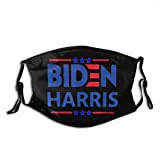 Subscribe to receive our full hotline