Unleash Prosperity Hotline 
Issue #196
1/8/2021
1) Where Were the Capitol Police?

The riots at the Capitol on Wednesday were a disgrace and all of those who used force to enter the Capitol or who assaulted the police should be found and criminally charged.

The other scandal was the unpreparedness of the Capitol police. U.S. Capitol Police Chief Steven Sund resigned yesterday after his force's inexcusable failure to maintain order in the capitol. Was the agency underfunded? Understaffed? Quite the opposite.

Our friend Chris Edwards of Cato notes:

The Capitol Police certainly has enough funding to be prepared. The force has 2,300 officers and a $516 million budget to defend two square miles.

The chart shows that outlays for the Capitol Police have soared over the past two decades. In actual or nominal dollars, spending increased from $115 million in fiscal 2000 to an estimated $516 million in fiscal 2021.

The Capitol Police budget is more than the police budgets of Atlanta and Detroit.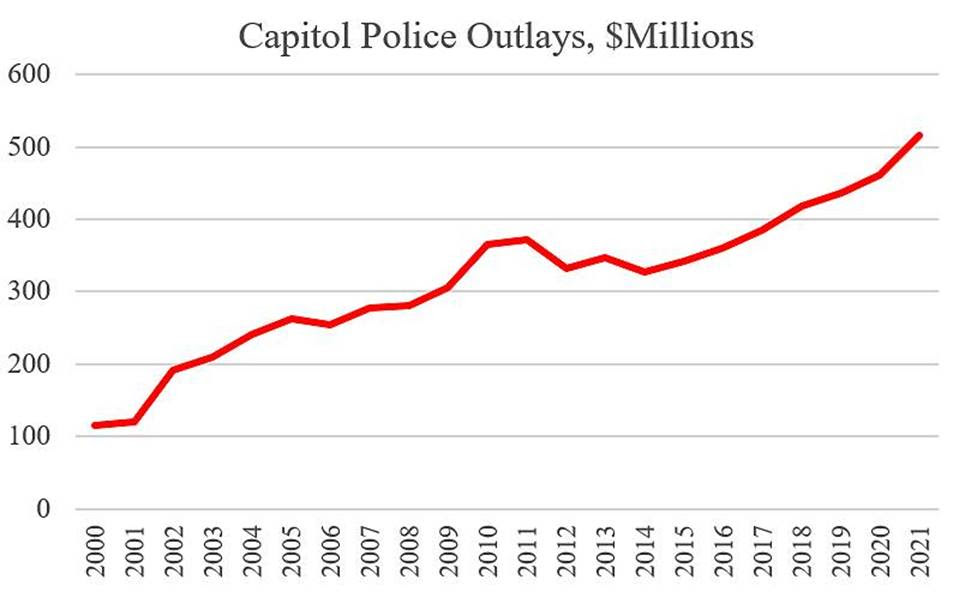 2) Growth Cities Are in Red States! Shocking 

The other day we listed the fastest-growing states, according to moving data from the people who know a little something about moving people: U-Haul.

Now here is the list of the 25 fastest growing cities in terms of migration. Nine of the 10 fastest growing cities in 2020 are in red states. Florida has the top three destinations. North Point, outside of Orlando; Kissimmee, near Sarasota; and Port Lucie, north of Palm Beach. Alabama is a new hot destination with Auburn and Huntsville moving into the top 15 go-to places. The only blue state with heavy in-migration is Colorado.

What is surprising is that Madison and Milwaukee, WI gained residents. We asked our Wisconsin contacts what is going on here, and the most common response was that the beer capital is being overrun by transplants from…guess which state? It's neighbor to the south, bankrupt and over-taxed Illinois. 

Subscribe to receive our full hotline