Unleash Prosperity Hotline
Issue #238
03/09/2021
1) A Time, Not So Long Ago, When Democrats Valued Work Over Welfare

"I am absolutely convinced … we have to have work as the centerpiece of any social policy."

Barack Obama, September 4, 2008




https://www.youtube.com/watch?v=UabzJm8HNNU&t=640s

Biden was once a welfare reformer too, before a flip-flop so epic that even the liberal Politico is calling him out.



https://www.politico.com/newsletters/transition-playbook/2021/03/08/bidens-welfare-flip-flop-492037
2) Lesson from One Year of Lockdowns: the Poor Got Crushed

Historians will look back and note the irony that Congress passed a gargantuan $1.9 trillion payoff to teacher unions, government workers, and mismanaged state and local pension plans along with helicopter money for everyone just as an economic recovery was showing real signs of strength.

Lockdowns, not the virus, crushed the working class. Most Americans who are in high-wage "information age" jobs weathered the storm, and many did better than ever in the age of Zoom and telecommuting. The lower-income service workers – who work at restaurants, hotels, stores, airports, and so on – were clobbered financially.  

As the chart below shows, for industries not hobbled by brutal lockdowns, hiring is booming. For those earning more than $60,000, the employment rate is up nearly 3 percent from pre-pandemic levels. Americans have saved an extra $1.3 trillion, much of it from previous stimulus payments.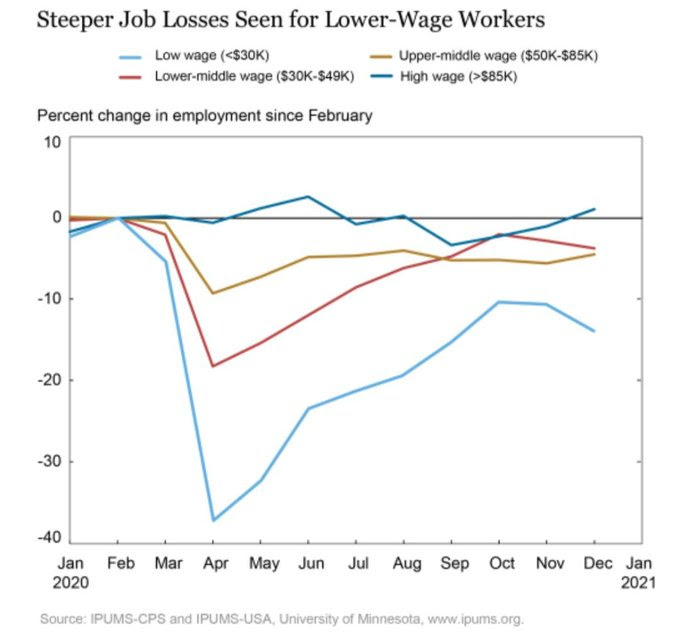 Subscribe to receive our full hotline