Unleash Prosperity Hotline
Issue #229
2/24/2021
1) Is it Time to Worry About Inflation? Watch the Gas Price

Ever since Biden's election, the CRB commodities index has been surging. This index of nearly 20 major commodities – from silver, to copper, to corn, to coal – hit its three-year high on Monday at 205. That's a 35% commodity price spike from election day when it stood at 154. Energy prices have led the ascent. The index had been rising throughout 2020 from its collapse in March and April when the virus hit.




We are advocates of the Fed watching the CRB index as the best lead indicator of inflation. This was the original "Volcker rule" used by Fed chief Paul Volcker in the early 1980s to squash the double-digit inflation of the Carter years. By driving down commodity prices, he drove down the inflation rate from 13% to 3%.

Throughout most of the Trump years, we believed the Fed was too tight as the CRB index remained way below its five-year average. When Trump entered office the CRB was at 190; when he left it was 155. That's deflation. Trump was right to be attacking Fed chief Jerome Powell mercilessly for dragging down real growth.

We like the CRB index where it stands right now at around 200 as we think this is a price-stable range. Will it stay there?

Yesterday Powell told Congress he's going full speed ahead on near-zero interest rates on top of the $9 trillion of m2 money creation in 2020. He's not worried about a rise in consumer prices. It worries us that he's not worried.   

If you think gas prices, which have risen 35 cents in the last couple of months, are high now – stick around.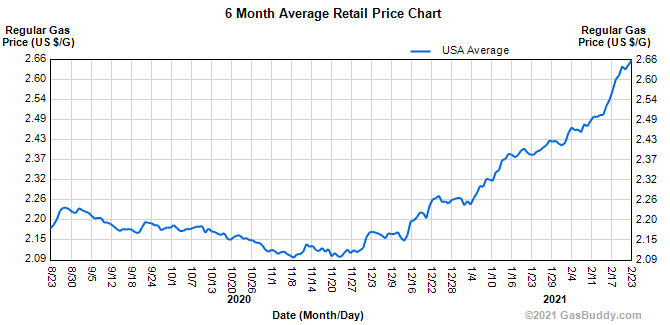 Subscribe to receive our full hotline