Unleash Prosperity Hotline
Issue #307
06/16/2021
1) States that Are Getting it Right…and the Ones Getting it Wrong

The new annual ALEC ratings of the states on economic climate are out, and as we've mentioned before, Utah keeps blowing away the field for best outlook.

We thought it would be interesting to see which states have moved up and down the ladder the most over the last decade.

The five most improved states are:
– North Carolina
– Indiana
– Wisconsin
– Florida
– Oklahoma

The five that are headed south (figuratively) in state competitiveness are (worst listed first):
– Maryland
– Missouri
– Virginia
– Colorado
– Mississippi

If you're wondering where California, Illinois, and New York are on this list, they've been so stuck in the basement for the last decade, they can't possibly fall any lower. BTW, Colorado's problem is that Californians are swarming in and voting for the very progressive policies that have ruined the once-Golden State.

One hopeful lesson here is that leadership really does matter. North Carolina had one of its best governors ever in Pat McCrory, who enacted sweeping tax and welfare reforms. Wisconsin's Scott Walker was in office for eight years and became an overnight superstar with reforms that endure to this day. Florida's governors Rick Scott and now Ron DeSantis keep pushing forward innovative health care, regulatory, and education reforms.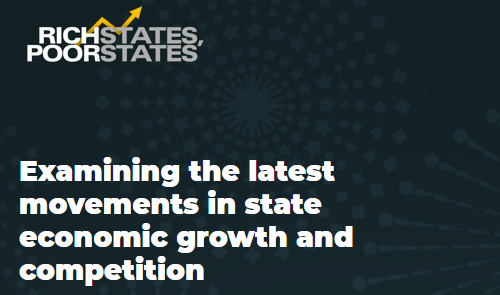 2) Schumer's Budget Binge Could Be Busted

Majority Leader Chuck Schumer faces a dilemma in getting his binge of spending and tax hikes through the Senate.

He now wants to do a two-step process. First, pass a bipartisan, smaller infrastructure bill to satisfy demands of Senator Joe Manchin, Kyrsten Sinema, and others. Then do a new reconciliation bill to pile on climate change rules, permanent entitlement programs, and tax increases.

But as Politico reports: "A couple of glaring problems (have) surfaced with this strategy, however. Manchin and Sinema studiously avoided committing to Part 2… It's asking a lot to pledge support to a presumably massive bill that hasn't been written yet."

https://www.politico.com/news/2021/06/14/republicans-infrastructure-package-biden-494490

And Schumer has to worry about his left flank. Senators Bernie Sanders and Ed Markey are vowing to vote no on any bipartisan infrastructure deal. Good. They may be our saviors. 

Our biggest worry right now is that Senate Republicans agree to a "bipartisan" $1 trillion infrastructure bill. Any infrastructure bill should be paid for by reprogramming money from the $1.9 trillion Covid bill that already passed Congress, and Republicans should insist that it include approval permits for the most needed infrastructure of all – pipelines, and that includes the Keystone XL.
Subscribe to receive our full hotline