Unleash Prosperity Hotline
Issue #346
08/11/2021
1) The Worst Day In The History Of The Senate?

Maybe. It certainly is the first time that in one 24 hour period the Senate agreed to break the bank on the budget and authorize some $4.5 trillion of debt spending. 

Just moments after Senate majority leader Chuck Schumer celebrated the passage of the $1 trillion green energy bill (which 19 Republicans voted for – in exchange for…nothing) Schumer gaveled the start of the debate of the horrific $3.5 billion Great Society War on Poverty Bill – Part Deux.   

At four in the morning, it passed on a 50 to 49 party-line vote, which allows a full debate over the weeks and months ahead on this budget reconciliation monstrosity.

We will be highlighting the fiscal and policy atrocities of this bill in the days and weeks ahead, but here is a partial list of the financial time bombs expected in this bill:
– Expanding Medicaid under Obama Care
– Expanding Medicare to include dental, vision, hearing benefits, and lowering the eligibility age
– Paid family and medical leave
– Long-term care for seniors and persons with disabilities
– Health equity (racial justice health investments)
– $40 billion for the IRS
– Free child care and prekindergarten care
– Free community college
– A $300 a month per child tax credit

Our initial estimates are that if this bill passes, the national debt will triple from 100% of GDP today to 300% of GDP by 2050 – which are banana republic levels of debt.

All in a day's work! Amazing!

https://www.axios.com/senate-budget-resolution-debate-schumer-8af79ab1-b5db-4ea0-b142-b0d9ce4d22c4.html
2) Cuomo Chased Out Of Office For The Wrong Reasons

We have no comments about the litany of accusations of Governor Andrew Cuomo's sexual improprieties, although who couldn't be amused by today's New York Post headline.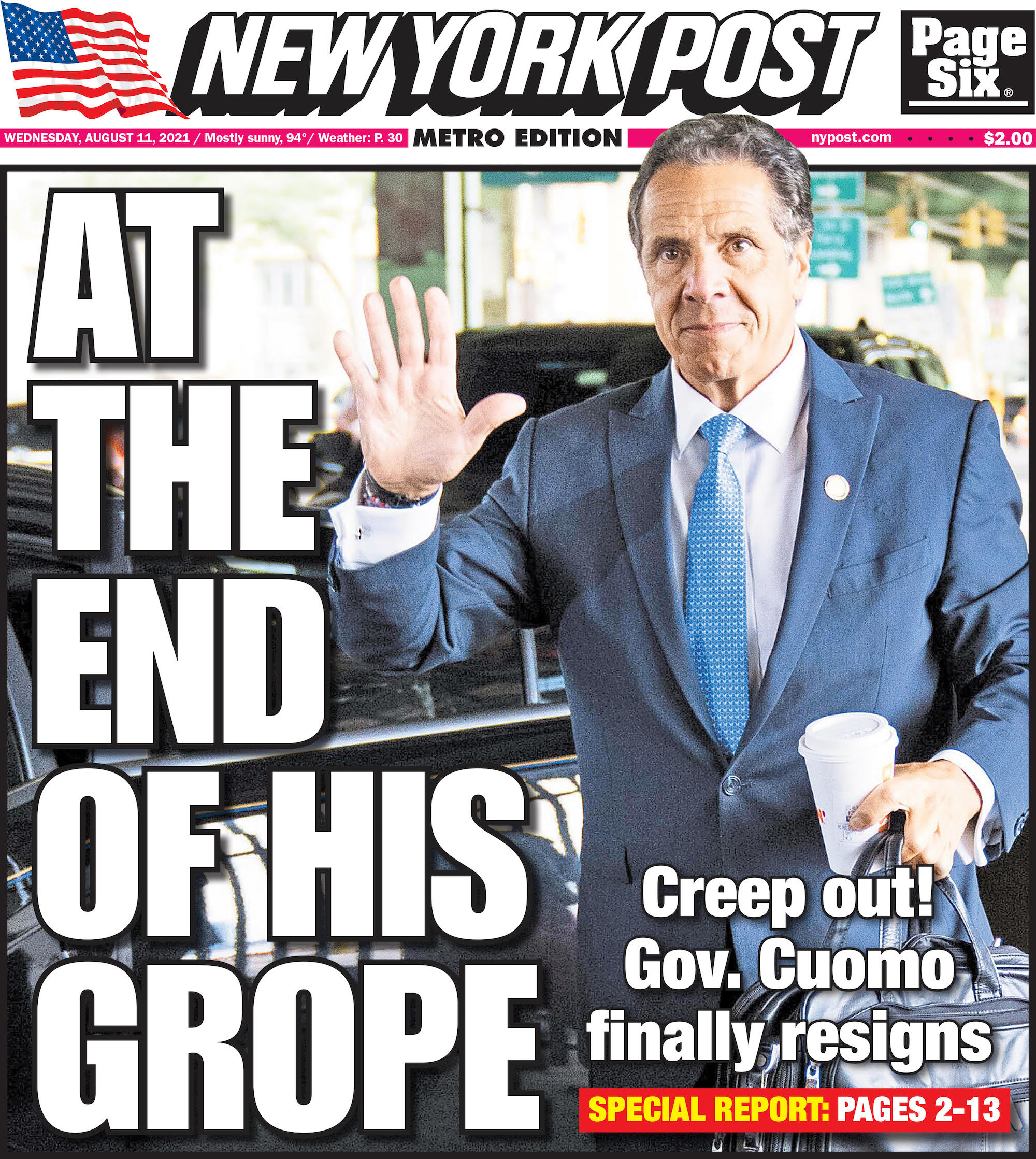 But the gropings are petty crimes when compared to last year's COVID nursing home scandal in New York. As a result of Cuomo's incompetent leadership in transferring thousands of COVID-positive patients into nursing homes, several thousand New Yorkers died. He has never been held accountable for these wrongful deaths.

Then in a Watergate-style cover up operation, he conspired to conceal the evidence. Cuomo is still being investigated by the Brooklyn US Attorney's Office with almost no cooperation from the governor's office. That makes a mockery of his declaration yesterday that "I love New York, and I love you. And everything I have ever done has been motivated by that love. And I would never want to be unhelpful in any way. " Sure, governor!

It doesn't speak well of the media bloodhounds or the current "me too" ethics of our country that a scandal that led to many deaths of New York's senior citizens and was covered up is tolerated and swept under the rug, but unwanted flirtations are unforgivable and chased him out of office.

President Biden's response to these crimes has been anything but exemplary. Biden's Justice Department should have, but decided not to, investigate whether the nursing home scandal was a violation of the Civil Rights of Institutionalized Persons Act. But when Cuomo was accused of sexual harassment by a politically ambitious state attorney general, Letitia James, Biden immediately threw Cuomo under the bus. (Isn't it fun to watch when the left turns on each other.)

Possibly the most outrageous and offensive comments made by Cuomo in his resignation announcement was his self-congratulatory statements about how well he handled the pandemic. Really? The graveyards in New York are filled with people who would beg to differ.




https://www.cnn.com/2021/07/24/politics/nursing-home-deaths-covid-justice-department-no-investigation/index.html
Subscribe to receive our full hotline