Unleash Prosperity Hotline
Issue #245
03/18/2021
1) West Virginia Leads the Country on School Choice

Finally, some good news to report!

West Virginia's legislature has just passed the nation's most comprehensive school choice bill. Nearly all families will be able to take some of the state's per capita allocation for education and spend it on the school of their choice. Also eligible will be a long list of educational expenses, including online education and tutoring.

The bill passed both houses of the legislature with not a single Democratic vote. The GOP House Speaker and a handful of pro-union Republicans also opposed it. However, GOP Governor Jim Justice is expected to sign it into law.

West Virginia spends an average of $12,644 for each child's education every year. The choice program will allow about $4,600 of that amount to follow the child to the institution parents think is best for them. In the Mountain State, that goes a long way: the average private school tuition in the state is just $6,068 and the average elementary school cost is $4,890.

West Virginia's voucher program will dwarf the "education savings accounts" offered in other states.  Florida, for example, limits its ESAs to students who have special needs, or are below age 5 and at high-risk of developmental delay.

School choice is the perfect response to the obstinate refusal of teacher unions to allow schools to reopen during the pandemic. If it can happen in one of America's poorest states, WV, it can happen anywhere.

As this map from the Education Freedom Institute shows, similar legislation has now been introduced in 30 states.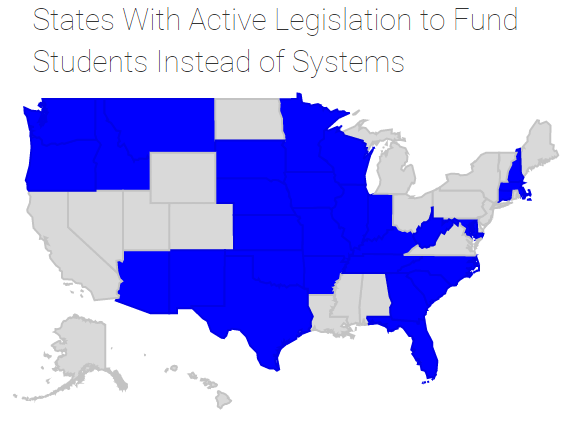 Reason magazine reports that a total of 26 out of 28 peer-reviewed studies "find that school choice generally leads to better outcomes in nearby public schools. And five studies find that competition leads to higher salaries for public school teachers. School choice is that rising tide that lifts all boats."

https://reason.org/commentary/west-virginia-looks-to-expand-educational-freedom/
2) "We Did Not Suffer Equally"
This was a headline in a fascinating New York Times analysis of the one-year anniversary of the pandemic lockdowns.

https://www.nytimes.com/interactive/2021/03/11/opinion/covid-inequality-race-gender.html

It is filled with some very depressing figures on how those at the bottom of the income scale and minorities suffered by far the most harm over the past year.




But, of course, liberals and the media somehow draw all the wrong lessons from these numbers. As the economic success of the open states showed, the virus was a relatively minor factor in causing these negative effects. The much bigger factor was LOCKDOWNS. Lockdowns killed low-income service jobs. Lockdowns caused much bigger losses of income for the poor than the rich. Wealthy children were MUCH more likely to still get educated – either in private schools or through better access to on-line learning than poor children.

The New York Times inadvertently reinforces the point that we have made at CTUP for at least the past six months: locking down the economy has done more to widen the gap between rich and poor than any other government decision or economic development in modern times.
Subscribe to receive our full hotline